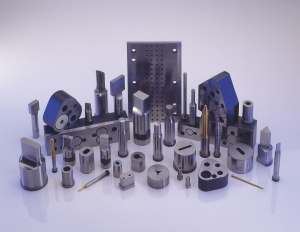 DAYTON LAMINA  is the world-wide industry leader in the production of catalog and special punches, punch blanks and metal stamping tools. Our full line of precision metal fabricating and stamping tooling includes: head type Versatile punches, ball lock punches, retainers, die buttons (matrixes) and die springs.
Only

DAYTON LAMINA  

can offer you…
Shortest, most consistent delivery
Our Firm Delivery Schedule reduces your lead-time, maintenance downtime and inventory.
Broadest range of product
More variety than any other punch manufacturer turns your specials into standards, reducing delivery time and cost.
Vast world-wide distributor network
Dayton trained distributors are nearby to assist you in product selection, problem solving and order placing to assure you of receiving the highest quality.
Carry fewer inventories – order what you need when you need it.
Highest level of technical support available
Help to solve your most demanding problems and maintain your productivity.
More manufacturing facilities than any other supplier.
The 800+ members of the Dayton Team world-wide are dedicated to furnishing you with the highest quality, best value catalog and to-print special metal stamping tools.
No other punch supplier can offer you this list of benefits!
For Catalogue and Product information click here
For a quote Click here